Main content starts here, tab to start navigating
Montreal Menu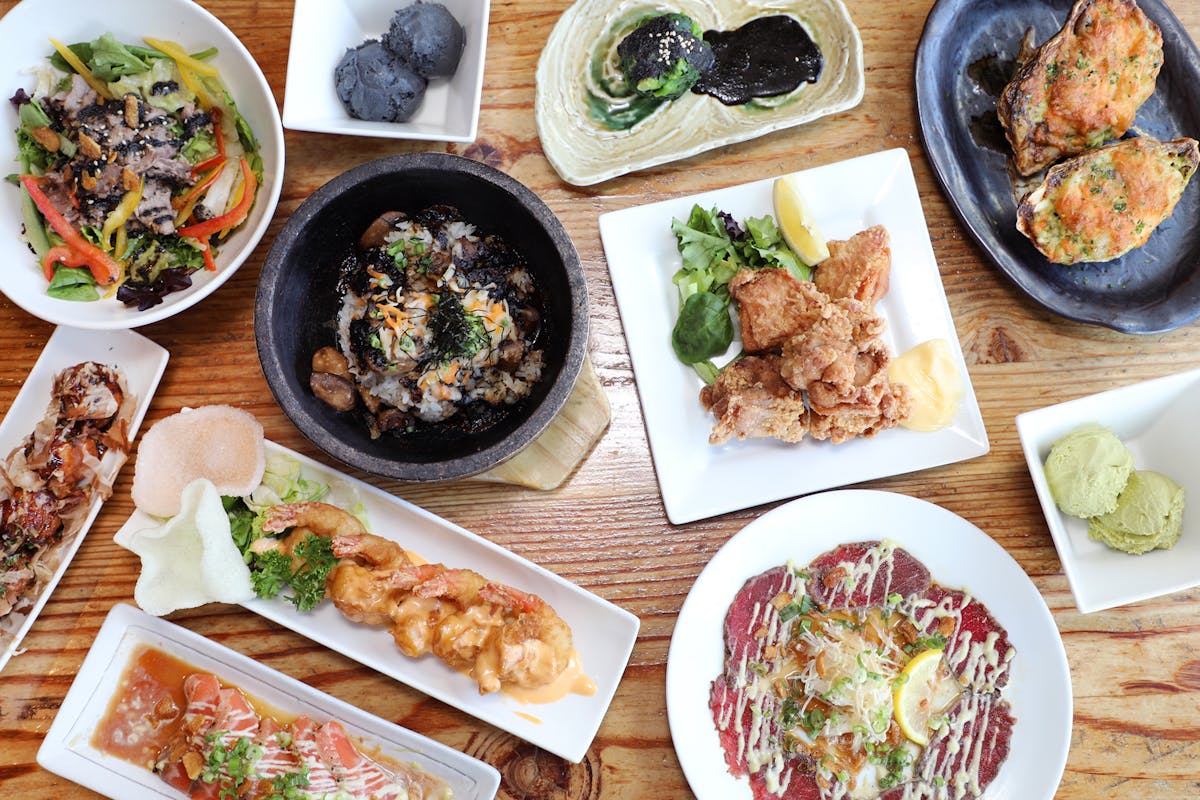 AUGUST 12 - 28, 2022
THREE-COURSE MENU
$19
To make a reservation, please select "Book A Table" on our website.
Soup
Miso Soup

tofu + wakame + green onions
Main
choice of 1 noodle/teppan curry/bento/stone bowl bibimbap/oshizushi
Dessert
Matcha Cheesecake

green tea cheesecake + whipped cream
June 20 - September 11, 2022
Dine-in only
Food
OCTOPUS CARPACCIO

jalapeno ponzu + wonton chips + onion + lime

$15

DEEP FRIED SWEET CORN

garlic soy + butter

$8

EGGPLANT AGEDASHI

okra + tomato + corn

$7
Beverage
SAKE MOJITO

2oz sake + kinka ramune

$14
Takeout Exclusive
Available for takeout (walk-in and phone orders) and delivery. To order online, click here.
Price differs on Uber Eats.
Ka-ra-ah-geh Bucket

16 pcs of Karaage. Available in Original or Garlic Soy.

$33

*Add housemade Gojuchang dipping sauce $0.99
Meal for One
1 miso soup + your choice of 1 noodle/teppan curry/bento/stone bowl bibimbap/oshizushi + 1 matcha cheesecake

$23
Meal for Two
2 miso soups + your choice of 2 noodle/teppan curry/bento/stone bowl bibimbap/oshizushi + 2 matcha cheesecakes

$45
Soups + Salads
Miso Soup

tofu + wakame + green onions

$4

Seaweed + Tofu Salad

tofu + seaweed + greens

$14

vegetarian

KINKA GARDEN SALAD

fresh greens + crispy lotus root + taro chips + okra + sweet + onion dressing

$14

vegetarian

CRISPY BURDOCK & DUCK SALAD

sous vide duck breast + soft-boiled egg + parmesan + wasabi mayo dressing

$16

Beef Shabu Salad

crispy lotus root + black sesame dressing

$16

Chef's Choice Sashimi Salad

chef's choice sashimi + crispy ramen noodles + yuzu miso dressing

$17
Shareables (Cold)
PICKLED CUCUMBER

japanese dashi cucumbers + shredded red peppers + bonito flakes

$6

*Not available for takeout/delivery

Kurogoma Spinach

black sesame sauce

$6

vegetarian

Wasabi Octopus

chopped octopus + wasabi, served with nori sheets

$6

*Not available for takeout/delivery

SUPREME POTATO

buttered mashed potatoes + cream cheese + egg, served with crispy taro chips

$10

vegetarian

*Not available for takeout/delivery

Tuna Tataki

ponzu sauce + yuzu miso dressing + microgreens

$12

*Not available for takeout/delivery

Salmon Tataki

pickled jalapeno + jalapeno ponzu + microgreens

$12

*Not available for takeout/delivery

Spicy Tuna Tartare

creamy avocado + green onions, served with nori sheets

$14

*Not available for takeout/delivery

Salmon Natto Tartare

okra + japanese pickles + soft-boiled egg, served with nori sheets

$15

*Not available for takeout/delivery

TRUFFLE PONZU BEEF CARPACCIO

truffle ponzu vinaigrette + tomato + dill + crispy shallots + parmesan

$15

*Not available for takeout/delivery
Shareables (Hot)
SMOKED EDAMAME

smoked soybeans

$6

vegetarian

Garlic Rapini

rapini stir-fry + garlic

$9

vegetarian

Crispy Veg Gyoza

sweet chili mayo

$7

vegetarian

Tokyo Fries

garlic mayo + green onions + bonito flakes + tonkatsu sauce + nori

$8

Takoyaki

tonkatsu sauce + mayo

$8

Agedashi Tofu Steak

mushrooms + kombu dashi broth

$8

vegetarian

*Not available for takeout/delivery

Tokyo Calamari

secret spicy sauce + wasabi mayo

$12

Prawn Tempura

spicy mayo

$12

Octopus Tempura

sea salt + soy vinaigrette

$12

*Not available for takeout/delivery

JFC AKA Karaage

your choice of: original w/ garlic mayo, spicy w/ housemade gochujang chilli sauce or garlic soy w/ sweet garlic soy sauce + garlic chips

$12

OYSTER KAKIMAYO 2.0

mushrooms + spinach + clam chowder, served with crostini

$16

*Not available for takeout/delivery

SIZZLING BEEF RIBS

onions + mushrooms + scallion sauce

$16

*Not available for takeout/delivery

PORK CHASHU LETTUCE WRAPS

miso glazed pork belly + daikon slaw, served with red leaf lettuce

$16

*Not available for takeout/delivery
Sushi
OSHIZUSHI: PRESSED SUSHI AND BLOW-TORCHED TO ORDER
Tiger Shrimp

$16

Scallop

$16

Salmon

$16

Mackerel

$16

DIY TEMAKI HAND ROLL

daily fish + seasonal vegetables, served with nori sheets

$21

*Not available for takeout/delivery
Noodles
Mentai Kimchi Udon

spicy cod roe + kimchi + green onions

$15

STIR-FRIED BEEF UDON

mushrooms + green onions

$17

DUCK & SPINACH UDON

sous vide duck breast + wakame + tempura bits + dashi broth

$16

The "OG" Beef Udon

onions + dashi broth

$17

TRUFFLE CARBONARA UDON

mushrooms + onions + soft-boiled egg + truffle oil

$17

vegetarian

Kinka Ramen

seared pork belly + bamboo shoots + wakame + green onions + fish broth

$15

SIZZLING OKONOMIYAKI RAMEN

okonomiyaki pancake + tonkatsu sauce + spicy mayo + bonito flakes

$15
Stone Bowl Bibimbap
Kinoko Cheese

mushrooms + cheese + nori sauce

$15

vegetarian

Curry Cheese

beef + melted mozzarella & cheddar

$15

BBQ Eel

burdock + raw egg yolk + sweet unagi sauce

$15
Teppan Curry
TEPPAN-STYLE CURRY SERVED WITH VEGETABLES AND RICE
The "OG" BEEF

$15

JFC AKA KARAAGE

$15

PORK TONKATSU

$15

PRAWN TONKATSU

$15
Bento
SERVED WITH FISH CAKE TEMPURA, PICKLED VEGETABLES, DASHIMAKI EGG, SHREDDED EGG, AND RICE
The OG Beef

$16

JFC AKA Karaage

$16

Grilled Salmon

$16

Grilled Mackerel

$16
Sweets
MATCHA TIRAMISU

green tea + lady fingers + cream cheese

$8

*Not available for takeout/delivery

Matcha Cheesecake

green tea cheesecake + whipped cream

$6

Hojicha Brulee

roasted green tea + custard + caramelized sugar

$8

*Not available for takeout/delivery

Matcha Ice Cream

green tea powder + fresh mint + crispy rice paper

$7

*Not available for takeout/delivery

KUROGOMA ICE CREAM

roasted kinako powder + fresh mint + crispy rice paper

$7

*Not available for takeout/delivery
Party Special
ASSORTED DESSERT

3 pastries + 4 scoops of ice cream + fruit

$33

*Not available for takeout/delivery
Beer on Tap
Sapporo

Japanese Lager | 5% ABV

Glass 16 oz (473ml) $8

Big Mug 33 oz (1 L) $15

Pitcher 61 oz (1.8 L) $28
Beer Cans & Bottles
Asahi Super Dry

330 ml | japanese pale lager | 5% abv

$7

HITACHINO SAISON DU JAPON

330ml | pale ale | 5% alc/vol

$12

HITACHINO WHITE ALE

330ml | belgian white ale | 7% alc/vol

$12

HITACHINO NEST ESPRESSO STOUT

330ml | coffee-flavoured beer | 7% alc/vol

$12
Wine
CHÂTEAU SAINT DIDIER-PARNAC CAHORS

red | france, sud-ouest | 13 % alc/vol

Glass (150ml) $12

Bottle (750ml) $49

CHEVALIÈRE PINOT NOIR PAYS D'OC

red | france, languedoc-roussillon | 12,5 % alc/vol

Bottle (750ml) $43

CHARDONNAY PAYS D'OC

white | france, languedoc-roussillon | 13% alc/vol

Glass (150ml) $12

Bottle (750ml) $35

DR. LOOSEN RIESLING

white | allemagne, moselle | 8,5 % alc/vol

Bottle (750ml) $49

CHABLIS SAINT-MARTIN

white | france, bourgogne | 12,5 % alc/vol

Bottle (750ml) $69
Non-Alcoholic
Coke / Diet Coke

$3

Sprite

$3

Ginger Ale

$3

Calpico / Calpico Soda

$4

Lychee Juice

$4

Green Tea (Hot)

$1

Iced Oolong Tea

$4

Perrier

Small $4

Large $6

Kinka Ramune

$0.50 donated to The Montreal's Children's Hospital Foundation

$5
Cocktails
MATCHA NEGRONI/HIGHBALL (2 oz)

matcha infused dry vermouth + aperol + gin

$14

FURAWA GIN FIZZ (1.5 oz)

gin + elderflower + lemon + peychaud's bitters

$15

PINK LOTUS (2 oz)

vodka + calpico + honey syrup + lime + egg white

$16

THE KIKU (1.5 oz)

chrysanthemum infused shochu + cointreau + ginger beer + lime + orange angostura bitters

$14

TOKI MANHATTAN/HIGHBALL (1.5 oz)

suntory toki whisky + earl grey infused sweet vermouth + disaronno + orange angostura bitters

$16

NEKO PUNCH (5 oz)

sake + honey syrup + passion fruit + pineapple + lime

$14

LEMON CHU-HI (1.5 oz)

vodka + lemon + soda

$12

GRAPEFRUIT CHU-HI (1.5 oz)

vodka + grapefruit + soda

$12

ORANGE CHU-HI (1.5 oz)

vodka + orange + soda

$12
Sake
Sake Bomb

$7

KINKA BAMBOO SAKE (COLD)

300ml $19

SHO CHIKU BAI MIO SPARKLING

nada, japan | 5% abv

300ml $33

DARUMA CUP SAKE - TOKUBETSU JUNMAI

oita, japon | 15 % alc/vol

180ml $23

SHO CHIKU BAI NIGORI SILKY MILD

berkeley, états-unis | 15 % alc/vol

375ml $27

SHO CHIKU BAI "SHO" GINJO NIGORI

berkeley, états-unis | 14% alc/vol

720ml $72

CHOYA YUZU

osaka, japon | 15 % alc/vol

720ml $75
Party Specials
Seven Samurai

7 colourful sake shooters

$33